Guilden Sutton Defibrillators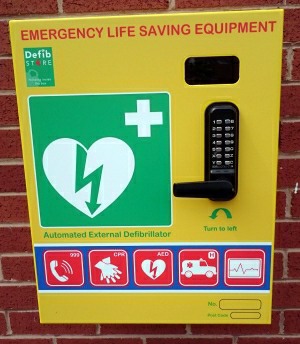 Defibrillators have been installed on the outside if the Village Hall in Summerfield Road, just around the corner from the Post Office, in the old phone box in Hare Lane, Pipers Ash, and outside the Church Hall, Church Lane, Guilden Sutton (near the Bird in Hand).
Another one is held in the dental surgery, Summerfield Road.
Anyone should be able to use them. See this info from the British Heart Foundation on what to do in the event of a suspected cardiac arrest. Click here
To access a defibrillator, simply dial 999, give the operator the postcode for the defibrillator and you should be given the unlock code. The defibrillator will instruct you on its use.
Locations: 1) the Village Hall, Summerfield Road, CH3 7SW
2) the old phone box, Hare Lane, Pipers Ash, CH3 7EQ
3) Church Hall, Church Lane, CH3